Windward Consulting Services for Project Initiatives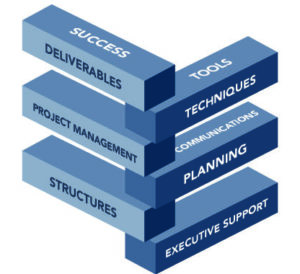 Windward provides guidance to help an organization build a strong foundation to support planning and execution of the projects that make an organization's strategic goals a reality.
Windward consulting services are an extension of its core mission to provide high quality and customized project management training to client organizations. The goal of Windward consulting is to help ensure a project environment that supports project managers and teams in those organizations. Windward offers its expertise to advise organizations on building a project foundation and maturing a strong project culture.
Executive Briefings
Clear and concise briefings focus on senior leadership's support and oversight of strategic project initiatives and the establishment of project structures and accountability. Briefings are tailored to be specifically tied to organizational goals and influenced by the project management maturity level of the organization. Objectives for a briefing are developed in consultation with leadership stakeholders and strategic planning advisors.
Project Structures
Project structures create the framework within which project initiatives are accomplished. Windward consulting provides guidance to help organizations build the foundation for effective project management.  View the list of structure examples:  
Executive sponsorship
Portfolio management
Project governance
Risk tolerance
Internal control systems
Project performance metrics
Project vs. functional organizational constructs
Project manager authority and responsibilities
Project Management
Windward consulting provides project planning and execution guidance to help project managers and teams. 
View the list of project management examples:
Requirements identification 
Methodology selection
Project plan development
Kickoff meeting
Project team charter
Cost and schedule integration
Communication plan
Project risk plan
Stakeholder management
Project performance reporting
For more information about project team workshops, please contact Windward Project Management.