Workshops Combine Consulting and Training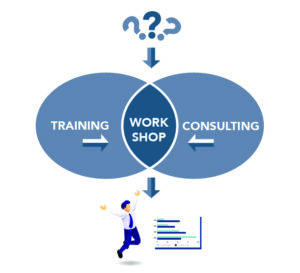 Workshops provide solutions and support for project managers and team members who are planning projects or experiencing difficulties in achieving project objectives. Each workshop is customized to address a specific project deliverable or problem area.
Project teams come to a Windward workshop with specific objectives to achieve. Project teams leave a workshop with deliverables directly related to those objectives – actionable project plans, solutions to project management problems, and best practice tools and techniques to apply in the workplace.
Workshops focus on team tasks and challenges
Developing a viable project plan
Identifying and planning for project risk
Optimizing resource utilization
Tracking project progress using earned value 
Controlling unacceptable project variances
Writing milestones and establishing accountability
Controlling scope creep
Managing stakeholder relationships
Writing a project communication plan
Rescuing a troubled or failing project
Managing subcontractors
And more . . .
How A Project Team Workshop Works
Windward workshops are a combined training and consulting experience. With the facilitator's guidance, team members develop one (or more) of the following workshop deliverables:
Project Plan or a specific project plan component
Problem-solving strategy to manage a specific project issue
Framework to achieve a specific project management result
The Workshop Process:
Step 1:  Prior to the workshop the facilitator and instructional designer meet with the client to identify project issues and the resulting workshop deliverable requirements.
Step 2:  Workshop materials are then created to focus on the identified project management concerns and objectives.
Step 3:  During the workshop the facilitator presents relevant concepts, tools, and techniques in distinct modules.
Step 4:  Each module presentation is followed by the project team applying key learning points to achieve the desired workshop deliverable(s). The workshop facilitator provides guidance and consulting advice to support the team's achievements.